Community SafetyDefensive DrivingWorkplace Safety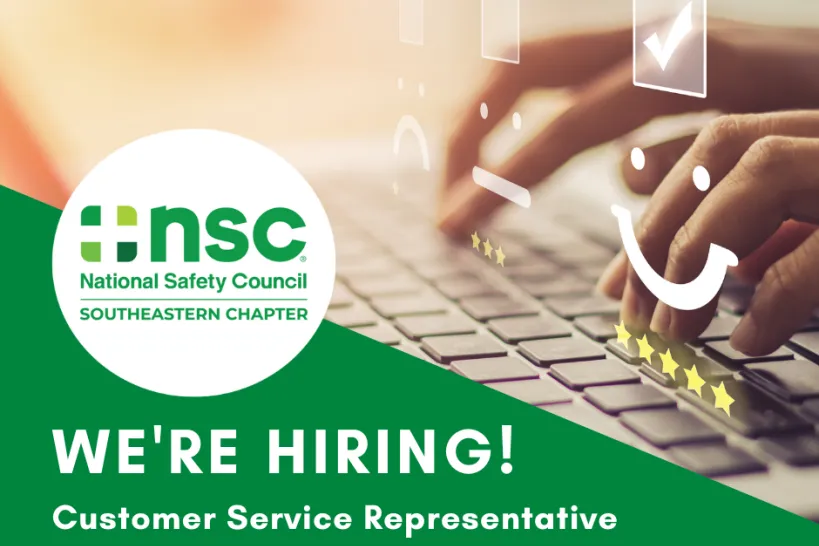 The National Safety Council Southeastern Chapter (SCNSC) is looking for a professional with a friendly attitude and the ability to multitask to serve as our organization's front desk receptionist. In this full-time position, you will greet students and guests entering the building and help direct them where they need to go. In addition, you will be responsible for answering and managing phone calls and the general email account. We are a small but growing nonprofit with multiple offices across South Carolina and Georgia. The Customer Service Representative position will work a set schedule of 37.5 hours per week. Reporting to the Director of Marketing and Operations, the Customer Service Representative is responsible for assisting in all the areas of operation that are essential to SCNSC members, customers and staff. If you enjoy helping people and are committed to doing excellent work, we want to hear from you!
Overview of Duties and Responsibilities
Attitude is everything! This position requires a positive disposition and professionalism in verbal and written communications. Patience is also important because customers call us during their time of need.

Receive visitors at the front desk by greeting, welcoming, directing and announcing them appropriately.

Assist with a variety of administrative tasks including printing, copying, scanning, and data entry.

Collect and distribute mail daily to staff members. Log checks and invoices.

Responsible for bulk mail projects requiring stuffing, sealing, stamping, and mailing

Responsible for UPS shipments (incoming and outgoing)

Order and stock office supplies and training material inventory.

Assist Program Coordinators with other duties as assigned and as time permits.
Qualifications and Requirements
Respond courteously to the immediate needs of visitors and callers; ability to establish priorities and maintain productivity despite frequent interruptions

Have cultural sensitivity and ability to relate well and effectively in a diverse workplace with diverse clients

Solid written and verbal communication skills

Minimum 36 WPM typing speed

Must be a team player committed to providing rock-star customer service

High school diploma plus experience (3-5 years) or 4-year degree

Knowledge of, and orientation to, the philosophy of SCNSC as presented in the Mission

Competency in Microsoft Office applications including Word, Excel, and Outlook

Ability to operate and troubleshoot general office equipment (e.g., copier, printer, mail processor, etc.
Our Mission and Purpose
The National Safety Council Southeastern Chapter is a chartered chapter of the National Safety Council serving the states of South Carolina and Georgia. SCNSC's mission is to promote change to eliminate preventable injuries, death and loss in the communities we serve. Our motto is "saving lives – from the workplace, to anyplace – across South Carolina & Georgia." We work to achieve our mission by providing education, awareness, advocacy and prevention in three core areas: roadways, workplaces and communities.
Compensation Package
Annual Salary - $32,000 - $36,000
Full Health Benefits to include medical, dental, vision - paid at 100%!
Retirement Match up to 6% of annual salary
Paid Vacation and Sick Leave
Eligible for Annual Bonus
Main Office Location
121 Ministry Drive
Irmo, SC 29063
Business Hours are 8:00 AM – 4:30 PM
Email cover letter and resume to:
Taylor Harrison, Director of Marketing and Operations at tharrison@scnsc.org
Submission Deadline: April 28, 2023
Back to Resources List