Driving Academy
Get your license and driver's education with the leader in defensive driving training. Plus, as a nonprofit, our rates are lower than most driving schools. Offered to Midlands-area students in South Carolina, find a course near you.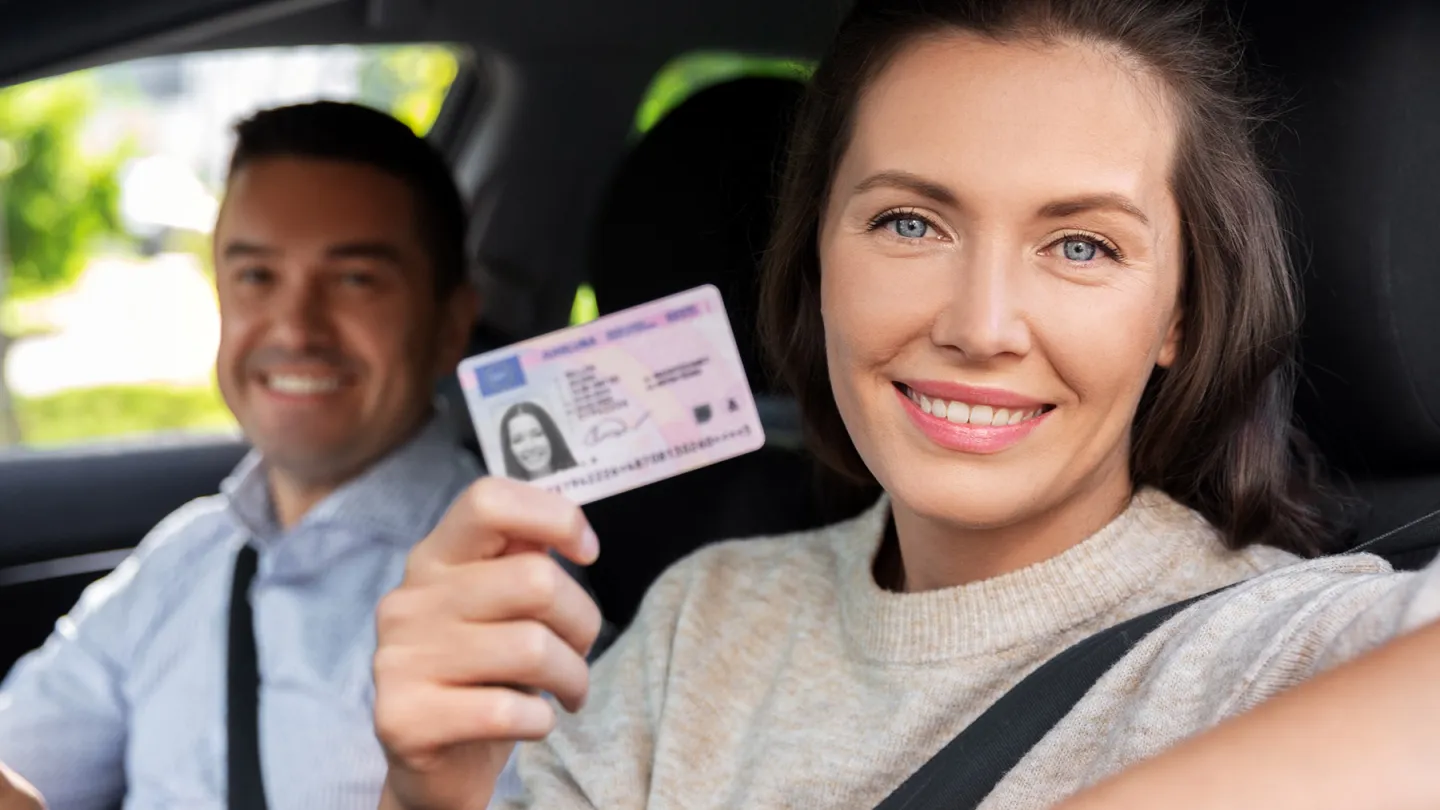 Class Details
Driving Academy provides an introduction to motor vehicles and the traffic laws in South Carolina. Students will learn essential safety lessons on topics like driver disposition, road conditions, speed and crash risks. With behind-the-wheel training, students will learn about parallel parking, three-point turns and railroad crossings as well as rural, city and interstate driving. 
The $350 enrollment fee includes 8-hours of classroom instruction, 6-hours of behind-the-wheel training, SCDMV-approved driving test and lunch during the 8-hour class. 
Prerequisites
check

Beginner's permit

check

South Carolina residents may apply for a permit at age 15
Student

Grads

Congratulations to our Driving Academy graduates! They've earned their driver's license and proven they have the skills needed to stay safe.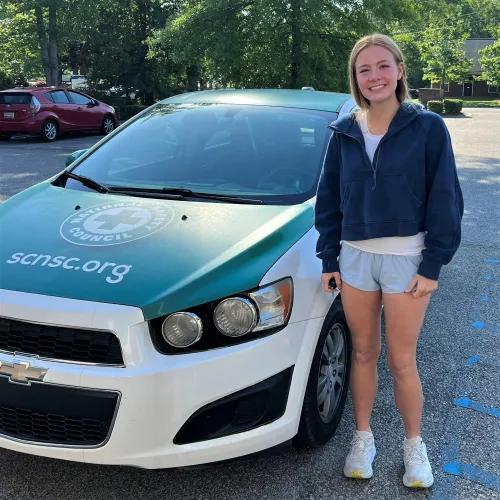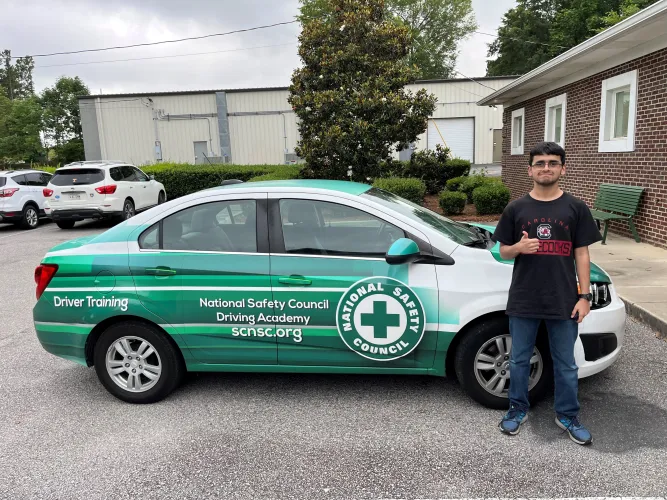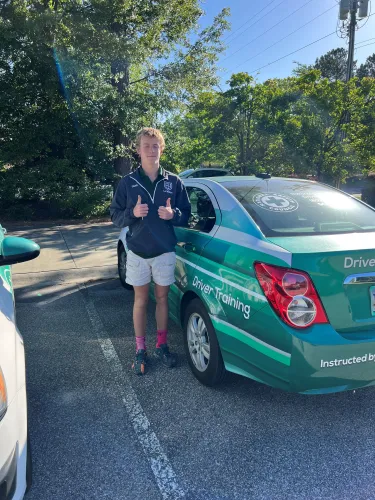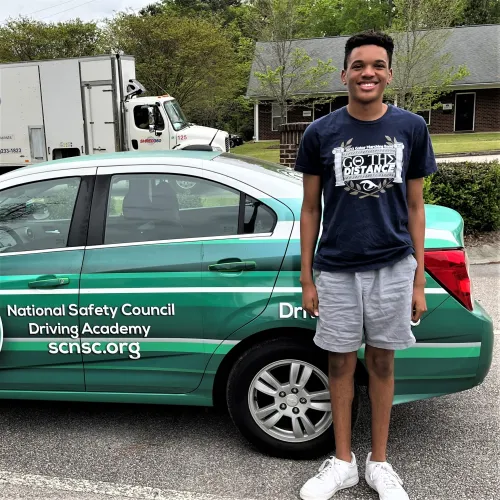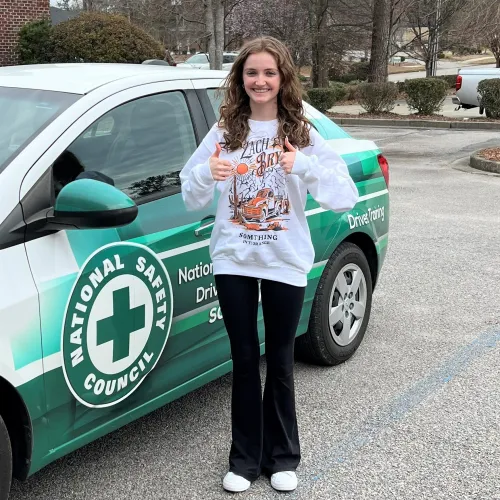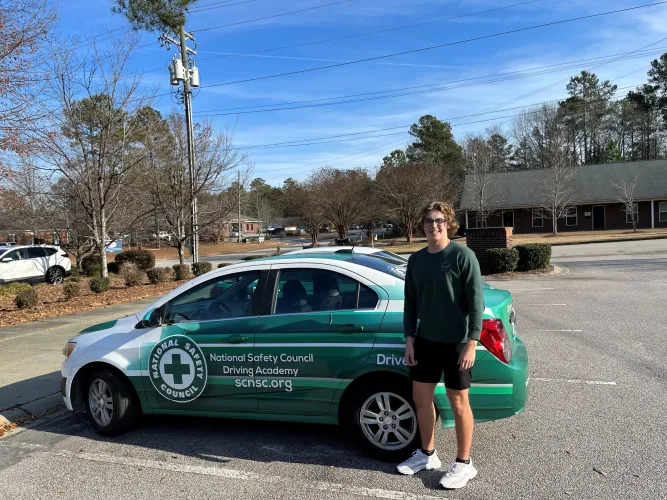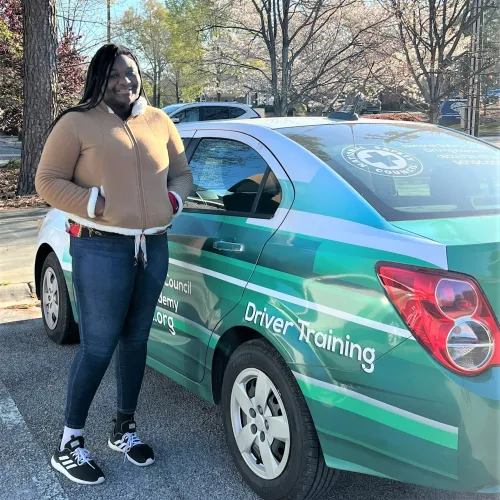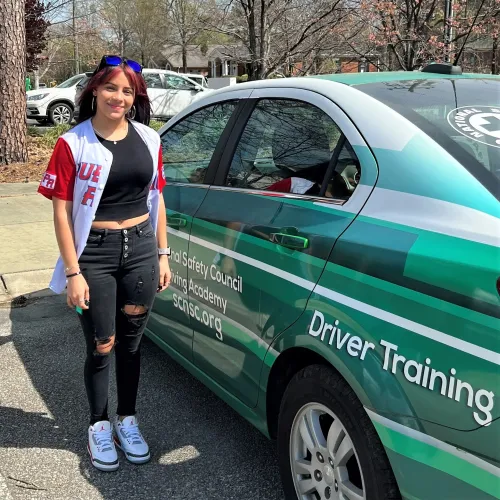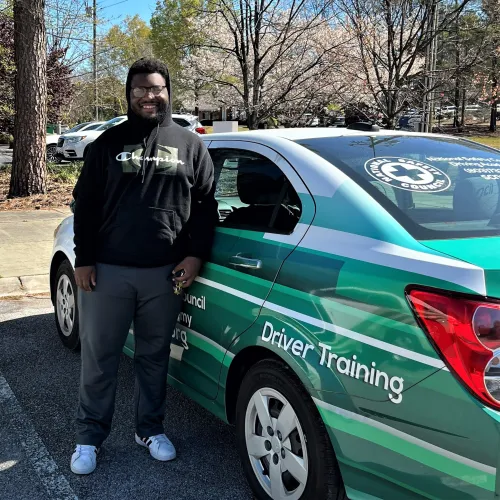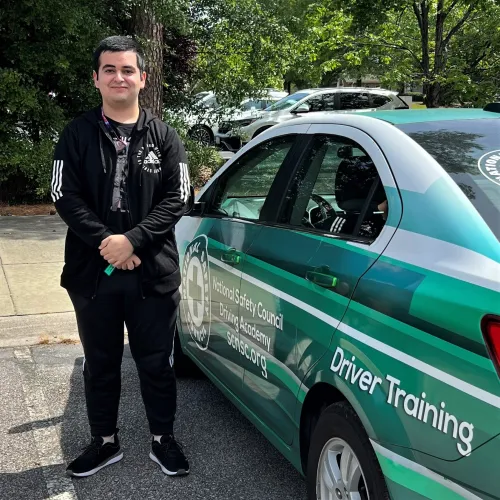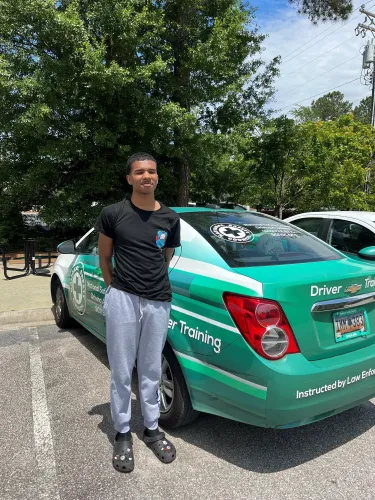 Driver's Education FAQs
Why choose SCNSC for driver's education?

By choosing National Safety Council Driving Academy, you are investing in excellence. Our Driving Academy enrollment fee is lower than other driving schools because we are a nonprofit organization with a mission to eliminate preventable injuries, death and loss in the communities we serve. Educating your student helps us achieve this mission.

When should I take Driving Academy?

Students must have a South Carolina beginner's permit before taking the Driving Academy program. You can apply for a driver's permit at age 15. 

While you may register for Driving Academy any time after you receive your permit, we recommend students complete the program closer to their eligibility date for the road test. This will ensure the information and practice they receive during the course are still fresh when it is time to take their road test.  

When Can I Take My Road Test? 

Drivers under age 17 are required to:

hold a permit for at least 180 days and
practice driving with an approved licensed individual* for at least 40-hours (30-hours daytime, 10-hours nighttime).

An approved licensed individual is typically a parent or guardian of the driver. See the SCDMV form for details. 

How do I get my beginner's permit in SC?

You must be at least 15 to apply for a beginner's permit in South Carolina. To receive your permit, you must take a knowledge test at the SCDMV. For more information, visit the SCDMV site. 

Do I have to complete Driving Academy to get my license?

To get your license before the age of 17, you must complete a form of driver's education like Driving Academy. Most insurance companies also offer reduced rates for young drivers who have completed driver's education. 

What can I do if I'm nervous to drive with my child?

You're not alone. This anxiety is very normal among parents of new drivers. While we understand you're nervous, we also want to emphasize how critical it is that you provide your child with the experience they need to become a comfortable and confident driver. The reality is that no amount of paid weekly instruction can replace daily driving exposure with parents. Rest assured that it's okay to start slow. Find places where you're comfortable (parking lots, neighborhoods and familiar routes) before graduating to busy streets and highways. 

You also have the option to pay for extra drive time with our instructors. Plus, know that your child is receiving a strong driving foundation with 6 hours of behind-the-wheel training and 8 hours of classroom education during our Driving Academy program. 

Explore more tips for parents, which we update during teen safety week. 

What's the difference between a beginner's permit, a conditional license and a restricted license?

The following outlines the SCDMV graduated driver's license program, which is designed for people age 15 to 17. It allows you the opportunity to develop your driving skills with certain restrictions that are lifted as you move through the program. See the full details at the SCDMV site. 

Beginner's Permit

Graduated Driver's license factors
The Law
Minimum Age
15 years old
Minimum Time
180 days
Parent Guardian Supervision
40 hours (at least 10 at night)
Driver's Education

Private: 8 hours classroom; 6 hours behind-the-wheel
Public School: 30 hours classroom; 6 hours behind-the-wheel

Once you've completed the above steps, you are eligible to take your road test to graduate to your conditional license. 

*Must drive with a licensed driver with at least one year of driving experience; after midnight, must drive with a licensed parent or guardian.

Conditional License

| Graduated Driver's license factors | The law |
| --- | --- |
| Minimum Age | 15.5 years old (or after 180 days with a beginner's permit) |
| Passenger Limit | No more than two teenage passengers; exceptions for family members and transporting students to and from school.  |
| Night Driving | May drive unsupervised during daylight hours. At night, must be with a licensed driver who is at least 21 years old and who has > 1 year of driving experience. After midnight, must drive with a licensed parent or guardian. |
| Sports/Work Waiver | May get a sports/work waiver at 16 years old. Waiver must be signed by school/work and parent or guardian. (Take to SCDMV for filing and fee.)  |

Once you've held your conditional license for a year with no traffic offenses or at-fault collisions, you may receive your restricted license. 

*Must be currently enrolled and have satisfactory school attendance. 

Restricted License

| Graduated Driver's license factors | The law |
| --- | --- |
| Minimum Age | At 17—or at 16.5 with no-fault collisions or traffic citations. Must hold a conditional license for one year prior.  |
| Driving Privileges | Full driving privileges  |

*GDL is not required if your first attempt at license is at age 17 or above. 
*Permit is required for any age if it's a first-time driver's license. 

 

Keys to Independence

Keys to Independence is a scholarship program for low-income and foster youth in the Midlands. Students must be referred by a program partner. Direct applications are not accepted by students or parents. Contact us for more information. 

Heathwood Hall Driving Academy

SCNSC has an exclusive partnership to offer driver's ed at Heathwood Hall Episcopal School. If your child attends Heathwood, register for a class at www.scnsc.org/heathwood. 
8 Hours Classroom Training
Learn from the leading educators in defensive driving with a deep understanding of top teen driving issues.
6 Hours Behind-the-Wheel
Get hands-on training from law enforcement officers passionate about educating young adults.
SCDMV Approved Road Test
Test with our certified instructors for your driver's license in the same vehicle you trained in.
Law Enforcement Instruction
Trust the training—each of our instructors has 40 hours of training and relevant on-the-job experience.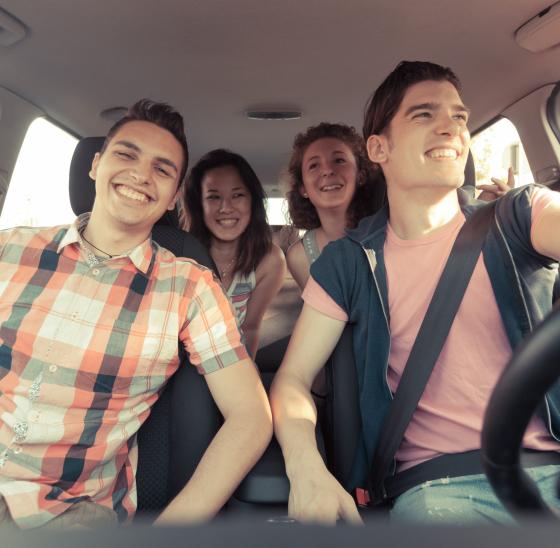 Keys to Independence
Driver's Ed for Low-Income & Foster Youth
Learning to drive is a rite of passage to young adulthood for thousands of South Carolina youth. It brings new levels of independence and opportunities, enabling young people to take themselves to school, work, and participate in extra-curricular activities. But teens who do not have access to a driver's education program may wait longer to obtain a license and will often miss the important skills and training taught during driver's education.
In 2019, SCNSC launched the Keys to Independence program to provide free driver's education training to foster care teens in the Midlands. Reach us to learn more about the scholarship program. 
Reach Us
Driver's Education Contact
Melissa Reck
Reach Melissa to learn about our Midlands-area Driving Academy course as well as our Keys to Independence scholarship program. 
Additional Information: