Community SafetyDefensive Driving
Georgia Teen Distracted Driving Simulator Events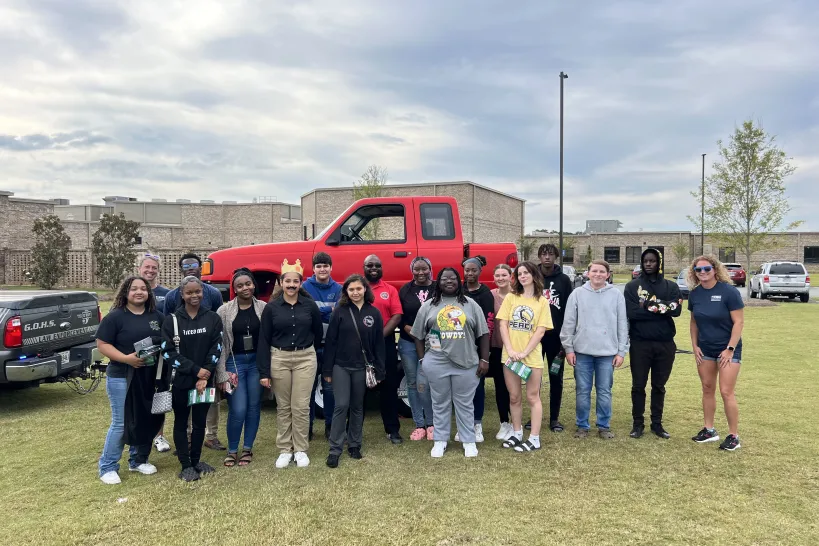 215 teen drivers lost their lives in collisions on Georgia roads in 2021. Speeding, distractions, and impairment were among the top reasons why so many trips ended in tragedy. To reverse this trend, the National Safety Council Southeastern Chapter (SCNSC), State Farm, Peach County Sheriff's Office, Bleckley County Sheriff's Office, along with Cochran Police Department partnered to help local high school students develop safer driving habits. Leading up to National Teen Driver Safety Week, the Distracted Driving Simulator events brought students a hands-on, outdoor learning experience at Peach County and Bleckley County High Schools.
SCNSC's Distracted Driving Simulator uses virtual reality technology to create manual, cognitive and visual distractions behind-the-wheel. These simulations show young drivers first-hand how speeding, distractions and impairment can result in deadly consequences. Additionally, the event will include a variety of hands-on activities throughout the day to promote safe driving practices, including mock traffic stops with law enforcement officers and a golf cart cone course with Fatal Vision googles to simulate alcohol or marijuana impairment.
"Protecting and educating young drivers is a significant focus for State Farm," said State Farm Vice President-Agency Jen Dunn. "An estimated 47% of crashes in Georgia are caused by distracted driving, and we want to help reverse this trend. State Farm is proud to support SCNSC and the Distracted Driving Simulator program, and we look forward to reaching Peach County and Bleckley County teens during these fun and innovative educational events."
"The first few years of driving are the most dangerous time in a young person's life. Thanks to State Farm's generous support and engagement, we are steering the next generation towards safer roads, one school and one driver at a time," said Todd Buehrig, President & CEO, SCNSC.
 
Back to Resources List